RBT GYMS SUCCESS STORY
6111 Leads in 33 days
RBT GYMS SUCCESS STORY
RBT Gyms got in touch with us for help in bringing in consistent, high-quality leads at optimal costs but our work with them was a tad different in comparison to our other clients. Prior to working with Attain, RBT was already doing extremely well in the market so in order to scale a business of RBT's calibre, we had to look into innovative strategies and techniques to grow the company.
We worked closely with RBT's founder, Travis, throughout the whole campaign in achieving his visions and goals which also included plans to open up several new gyms. For Travis, opening up a new location was less of a challenge compared to bringing in new clients through the door; he needed some sort of guarantee that when these new gyms are launched, there will be more than enough paying clients on day one to give RBT a boost in both cash flow and business momentum.
To achieve this, we devised a lead generation strategy that focused on bringing these new locations to capacity as soon as possible in addition to managing the marketing process of existing RBT gyms. We settled on these goals to kick off RBT's campaigns:
Generate leads for the newly built RBT gyms to fully fill up client slots on launch day
Generate leads and improve the marketing for existing gyms by leveraging RBT's offers and promotions
Improve conversion rates for RBT's products and services as well as lowering marketing costs (cost per lead, acquisition costs, etc.)
Attain ran 3 campaigns in January for RBT which brought in more than 3,000 leads for the newly-opened gyms, essentially generating an average of 500 leads for each location. We managed to help RBT achieve a fantastic 38% conversion rate of leads to sales (767 sales in total) with an average acquisition cost of just $31—less than a fraction of what each client is worth to RBT.
We also met Travis' expectations by acquiring over 200 paying members on day one for each of RBT's new gyms as well as 360 new clients to existing RBT branches. These numbers netted more than $2,500,000 in contract value for RBT and we achieved all this by spending only 70% of the marketing budget allocated to us by Travis and his team.
RBT enjoyed huge success with Attain's marketing campaigns thanks to our expertise in utilising irresistible offers which in this case was RBT's 28-day challenge. We designed the offer in such a way that each dollar spent on marketing is going to net a 5-10x return on profit, meaning that RBT were earning, not losing money on promoting their services.
Attain still maintains a fantastic partnership with RBT today where we're continuously generating high-value leads each month for the business. Instead of worrying about finding new members, Travis can now spend more time with his family and the business across all 21 RBT locations knowing that Attain has got his marketing process nailed down to a tee.
THE RESULTS
6111

Total Leads

$14.38

Cost Per Lead

$87,888

Facebook Ad Spends

$2.5 Million

ROI
What We did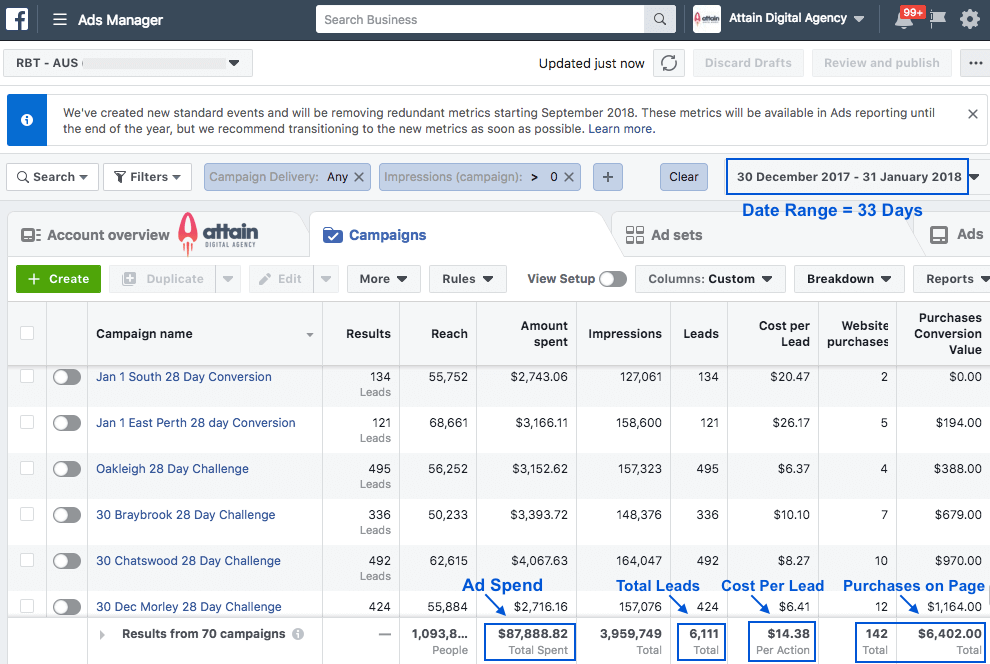 GET STARTED WITH A MARKETING AUDIT WORTH $1000 FOR FREE
Take the first step to double your leads and sales by booking your FREE 45 Minute Marketing Audit Call Today.